Kick Off
Jump to navigation
Jump to search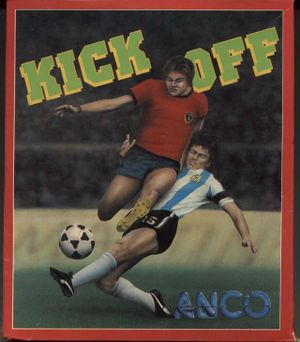 Kick Off is a one of the most acclaimed football computer game series ever released for home computer and console.
In 1989 ANCO published the first Amiga and Atari ST versions of Kick Off and it was immediately considered the first pioneer of the soccer computer games thanks to all the new original features never included in a football game before.
With Kick Off, contrary to all its predecessors, the ball didn't stick to the player's feet but was realistically kicked ahead from the players. This added an important degree of difficulty and skill requirement at the same time. This, along with all the new original features like action replays, players with different characteristics, different tactics, fouls, yellow cards, red cards, Injuries, Injury Time and various referees with different moods made Kick Off and especially its successor, Kick Off 2, one of the most successful football game series ever. Kick Off enthusiasts still play big World Cup competitions on original Amiga computers every year arguing that no other football game gives so much exciting amount of control over the action.
Even though versions for other computers followed, the Atari ST and especially the Amiga versions were by far the best. Kick Off was first developed for the Atari ST and then ported to the Amiga.
Kick Off was developed by Dino Dini (programming, design).
Magazine reviews
ST Action - Highest accolade they could give.
Amiga User Int - Best computer game ever 97%
The One - Ultimate soccer simulation 96%
ACE - Brilliant, BUY BUY BUY 920
Amiga Format - Best footy game to have appeared on any machine 94%
ST Format - What a game! gem to play. Magic 90%
C&VG - Championship winning material 95%
Games Machine - Probably the best sports game ever 92%
Commodore User - No other footy game can touch it 90%
Amiga Action - Surpasses all other football games 93%
PCW - Nothing short of brilliant
New Comp Express - Computer football event of the year

Scans (click for a larger image)

           ACE               The One (1)            The One (2)                Zzap               Anco's KO Cup Ad
Awards
Awarded U.K. 1989 INDIN Best 16 Bit Product
Nominated U.K. 1989 INDIN Best Programmer (2nd place, the winner was "Bullfrog" for "Populous")
Awarded 1989 EMAP Images Golden Joystick Award Best 16 Bit Product. (EMAP is a major U.K. magazine publisher).
Ports
The game was ported to various home computers and video game consoles, including the Amiga, Atari ST, Commodore 64, Game Boy, NES, PC and Sega Master System. Despite the plethora of ports, Only Amiga, Atari ST and X68000 ports were made with the same source code (Assembler for Motorola 68000 processors) and give the same Kick Off feelings. Also few of these systems support digital Joystick controllers, so an authentic Kick Off experience is extremely rare these days.
Games in the series
Sequels
In 1990 Kick Off 2 was released by ANCO. It was even more successful than his predecessor.
In 1992, a sequel, Kick Off 3 was in development. For various reasons the game didn't make it out.
Dino Dini left ANCO on 1993 for Virgin games and he released Goal! for them on 1994. Goal! was a totally different football game that was not well accepted by most of the kick off enthusiastic players.
In the same year ANCO released Kick Off 3 developed by Steve Screech, a totally new game with nothing in common with Kick Off 2.
In 2001 Steve Screech started a project called Ultimate Kick Off with the help of an early established KOA. The game was released by ANCO in 2002 with the name Kick Off 2002. Later a sequel called Kick Off 2004 was planned but it was never been released.
In 2005 Steve Camber started his project called Kick Off 2 competition version. An updated version of the classic game for Amiga improving its features using reverse engineering on the original Amiga game.
Trivia
Links
External Links